Jog'on Buddy -
Congratulations and thank you for continuing to raise money for KLS Support UK and raising awareness too!
There is a news update to be found here on Jog'on Buddy's latest fundraising effort, the Chester Marathon.
Thank you for raising £504.12 for KLS Support UK in your first race and now taking in the Chester Marathon too.
Jog'on Buddy can be found on Facebook. Please take a look.
This was taken from Jog'on Buddy's race diary 16th June 2013 - ©Jog'on Buddy
Race diary...First 2.5 miles weren't easy running, feeling great at 3 miles, first proper channel at 3.5 miles (ran through), second big channel ran into it, half way through felt like running with lead boots on! running good up to mile 6 (thinking this is easy), turn into the wind ... Next channel (which I thought would be worst), the one after that however felt like a mile long and virtually waist deep! Mile 10-13 is a long way when you can see the finish line!! But done it, 2 and a half hours!!
This is the route he will take only the course is in the opposite direction to the arrows this year.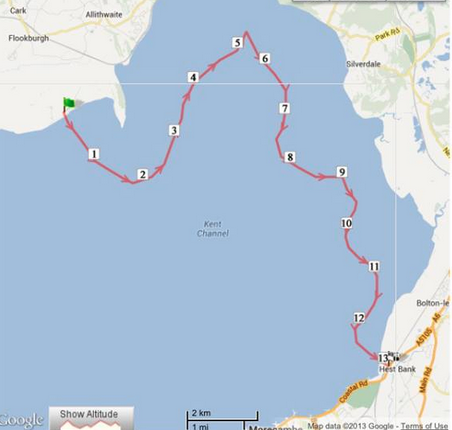 And after the race? This is what Jog'on Buddy wrote
I wanted to say thanks on behalf of myself and KLS Support UK for the sponsorship, it is much appreciated. I wanted to give you a brief summary of the event – hopefully this will give you a smile in return for your pounds J
The challenge was delayed by half an hour as the channels we were due to run through we're still too deep - seems like the tide didn't want to go out, pretty much the way I was feeling! Over the first 3 miles I came to realise that there is far more to sand than just wet or dry. It can be muddy, sticky, 'slidey' and ridged - all different kinds of 'fun' to run on.
At the 3 and a half mile mark I started getting into the run before reaching the first channel of water. To be honest this wasn't that bad - below the knees and not very wide so easy to run across. The next channel though was a lot wider and by halfway across it felt like I was running uphill wearing lead boots.
With the 6 mile marker coming up I was feeling pretty good considering the extra effort from the unusual course plus my feet were cold and shoes full of sand and water. Then the course turned to the west into what felt like a strong wind. I reached the next channel, which I thought was the widest and was happy when I made it across fairly easily. That is until I saw in the distance the much wider channel I was heading towards. Crikey Charlie - that was a lot deeper reaching my upper thighs and seemed to go on a long, long time when in reality it was probably only 60-70 metres.
By this time I was getting into the run until I realised at 9 miles I was desperate for the toilet. We were on a wide open beach with nowhere to hide, however a steward let me 'use' the back of his tractor. I was off the course and expected a bit of peace when I girl ran past me giving us both a shock. I'll say no more than I was wet and cold, running into the wind so the shock wasn't that big for her
I felt a lot lighter on my feet after the un scheduled pit stop and started enjoying the rest of the run with the wide open beaches, the sea to the left and hills to the right. It also made me laugh that the majority of us were British and were running in a straight line - like a slightly faster moving queue than we normally stand in.
I finally made it over the line in just less than 2 and a half hours. A fairly slow time for a half marathon but not too bad for one on this surface and after just three months training. I'll probably be back at this one next year however there is the small matter of The Next Episode .... Details to follow later.
Once again, thanks for your support and if you haven't paid then I'll be coming for you soon Alternatively you can still make a contribution direct to KLS on their website.