Kleine-Levin Syndrome Leaflet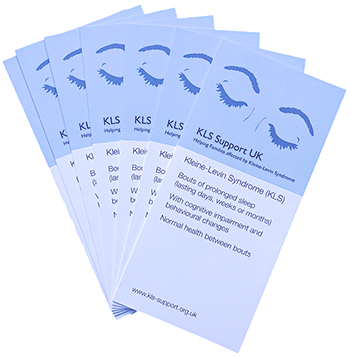 KLS Support UK have produced a leaflet in conjunction with our medical advisers Professor Paul Gringras and Dr Catherine Hill. It was also reviewed by Professor Emmanuel Mignot and Dr Isabelle Arnulf, who are conducting research into KLS. This is the official KLS Support UK leaflet. KLS Support UK cannot be held responsible for information given in any other KLS leaflet.
The leaflet can be downloaded and printed, or hard copies can be obtained from us for no charge Contact Us.
Feel free to show it to your GP, hospital, friends, family, school, work etc. KLS Support UK are delighted to be listed in the Patient.co.uk directory - where our leaflet is mentioned. This will make it more readily available to doctors and patients alike.
The leaflet is double sided and both sides can be seen here.
Please click on the image below to download it. Right click with the mouse and it can just be viewed in a new window or tab.

For additional information on KLS please follow KLS Support UK's links:
Medical Articles
Articles about UK KLS Sufferers
Helpful Links for groups, benefits information, help for families and children, education, further education, driving and general information.
KLS Video/Audio Links
Articles about KLS Sufferers worldwide
Please make contact using KLS Support UK's Contact Us form. Thank you.