Welcome to KLS Support UK
We are a small charity offering help and support to those affected by Kleine-levin Syndrome (also known as Kleine levin Syndrome).
There is more about us and our aims here
The third KLS Support UK Meeting will take place on 14 September 2014 in London. To find out more or register see NEWS section.
The report on the first KLS Support UK Meeting, 5th December 2012 in Manchester can be found here.
The report on the second KLS Support UK Meeting, September 2013 in London can be found here.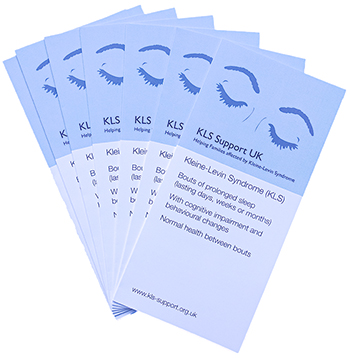 Contacting KLS Support UK
It is easy to contact us by filling in the Contact Us form.
One of us - Adele, Annette or Caron will reply as soon as possible.
If you would like to receive email updates about events and to receive our newsletters please make sure your details are kept up to date, thank you.
You can follow KLS Support UK on Facebook and Twitter, just click on the icon to be taken directly to the link.
For KLS Support UK news and updates please click here
KLS Leaflet.
The KLS Support UK Information leaflet can be downloaded and printed to give to GP's, family and friends, the text etc. has been approved for NHS use. We are delighted to be listed in the Patient.co.uk directory - where our leaflet is mentioned. This will make it more readily available to doctors and patients alike. If you would like to just view the leaflet please right click here and open in a new window or tab. If you would like a printed copy/copies please contact us and we will post some to you.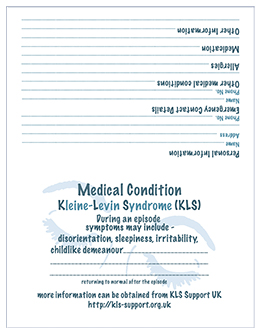 KLS Medical Cards
KLS Support UK have produced a card which can be printed off, filled in and carried in a wallet/purse. Many of those suffering from KLS, especially youngsters, are reluctant to be 'labelled' with an illness and do not want to wear medical jewellery. With this simple card all the relevant details can be kept safely on them at all times. Link
Please help our small charity with funds -
We are delighted to announce that KLS Support UK is now eligible for Gift Aid. Details and a form to print and complete are available on our website here.
KLS Support UK is the only UK small charity representing those families affected by Kleine-Levin Syndrome.
Trustees:- Adele Clarke, Professor Beverley Hunt, Caron Krieger, Annette Robinson.